How do I obtain HotelCoins? 
Only owners and managers of HotelSwaps member hotels can transfer HotelCoins to you. When a hotel member transfer HotelCoins to you, you will receive an email notification which details how to log in. You can hereafter use the HotelSwaps platform to browse hotels and make reservations paid with your HotelCoins.  
Can I purchase additional HotelCoins?
No. HotelCoins cannot be purchased.
How can I book a room using HotelCoins? 
Log in to your account, and browse the hotels under the "New Reservation" tab. Hotels with immediate availability can be booked instantly. If you do not find availability on your desired dates, request them, and the hotel will hereafter accept or decline your reservation request depending on their expected occupancy during those dates. You may make several requests at the same time for different hotels and to avoid any double bookings the first hotel to accept one of your requests will cancel out all your remaining pending requests.
How much is the reservation fee?
A non-refundable reservation fee is paid by credit card at the time of booking.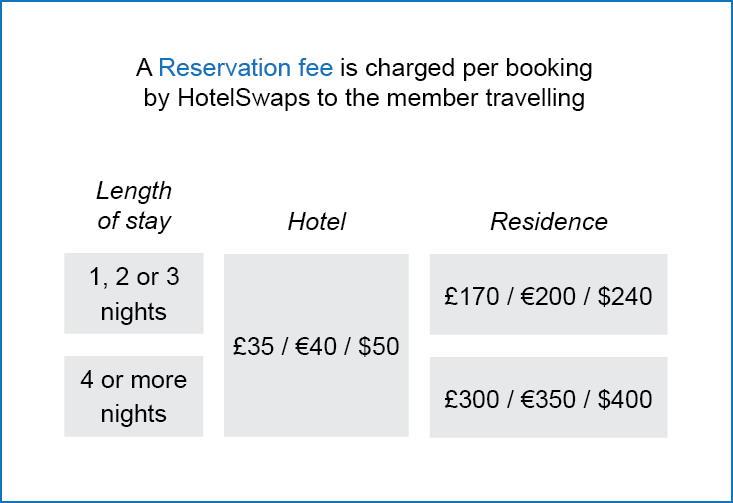 What is your cancellation policy?
Cancellations with full reimbursement of your HotelCoins can be done up to 28 days prior to check-in. If you cancel between 15 and 27 days prior to check-in, 50% of your HotelCoins will be reimbursed to your account and if you cancel less than 15 days prior to check-in, no HotelCoins will be reimbursed.  
Can I make a reservation for someone else?
Yes. You can book on behalf of someone else by adding the name and email address of the travelling guest at the time of reservation. 
What if I don't find any availability that suits my dates or destinations?
On the same page where you can make direct bookings, you can also request any hotel for specific dates. The hotel will then be notified of your request and will accept or decline your request within 7 days. You can log as many reservation requests as you wish. If you have more than one reservation request logged at the same time, the first hotel to accept one of your requests will automatically cancel your other requests to avoid double bookings. You will receive an email confirmation when a hotel(s) accept or decline a reservation request. 
Is my reservation confirmed once a request is accepted by the hotel? 
Yes. Your reservation is confirmed and you are liable for the reservation fee. Once a hotel accepts your reservation request, you will get an email with a link to the payment page. If you fail to pay the reservation fee within 7 days, the booking is automatically cancelled and you will not be refunded any of the HotelCoins paid for the reservation.  
Can I amend a confirmed reservation?
No. If you need to update a confirmed reservation, you will first have to cancel your existing reservation and make a new one with your new dates. In order to cancel an accepted reservation request, you will first have to pay for the reservation fee. See "What is your cancellation policy" for details on HotelCoins refund. You will have to pay a reservation fee for each new confirmed reservation.  
May I bring family or friends?
All hotel rooms booked through HotelSwaps are standard rooms for double occupancy, but you are welcome to book additional standard rooms using your HotelCoins, given there is availability. You may also contact the hotel directly to arrange an upgrade or book extra rooms at an additional cost, to be paid directly to the hotel.  
Can I call the hotel before my stay?
Yes, you can contact the hotel prior to your stay like any other guest at the hotel.
Do I need to pay for anything during my stay?
HotelSwaps exchange reservations only cover the cost of the hotel room. Any optional services (room upgrades, restaurant, minibar, spa treatments etc.) must be settled directly by you upon check-out. The hotel can request a credit card or similar reasonable guarantee from you at check-in to cover such charges. Depending on the destination, you may be requested by the hotel to pay for any mandatory city and tourism taxes.